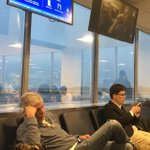 aliarikan Here's a creepshot of Anthony Bourdain sleeping through his own show at an airport. Have a great week. pic.twitter.com/qtOsVZJw5m
Es gibt wenig schöneres, als nachts mit dem Rad durch Berlin zu fahren.
timpritlove Das hier ist ein Tweet, der alle paar Monate und alle Jubeljahre aus nicht mehr nachvollziehbaren Gründen retweetet wird.