Slightly but happily lubricated.
@Revolvermann leite mal weiter, wenn du was hörst. Kumpel will auch einen kaufen.
@Real_Yelref am Zoo die Bar Zentral, im Prenzlauer Berg Becketts Kopf. Ansonsten die von Björn empfohlenen plus Green Door.
Jetzt werden hier 10 Jahre alte Podcastepisoden beworben.
@LinaMadita @derTorstn btw ich brauch kein Fine Dining. Es soll nur halbwegs authentische Küche sein, die schmeckt.
@LinaMadita ich hab zwar heute keine Lust auf deutsche Küche, aber den Laden merke ich mir. Danke.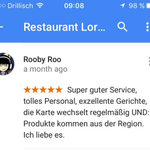 @LinaMadita das spielte folgendes an ;) pic.twitter.com/9J5rUTuIr1
@dasnuf das Transit kenn ich schon und auf Burger haben wir keine Lust. Den Laden merke ich mir aber. Danke.
@LinaMadita super guter Service, tolles Personal und exzellente Gerichte? ;)
If the latest GOOD WIFE is any indication of its final run, I'm all in. Seems that they've hold back their good stuff for the last seasons.
I like how Eli Gold gets offended when he gets called "a lawyer".