COUPLING S01: ✓
Until now pretty much every ep was the same. I hope I'll get more variety. Apart from that, good show so far.
@daskeyzerlein natürlich Tyra im roten Kleid ;)

Nee, die Bergwandszene.
@largewhiteguy vielleicht wenigstens 30 Minuten Spaß und mehr Einfallsreichtum. Teil 1 hat sich selbst wenigstens nicht so ernst genommen.
G.I. JOE RITALIATION: 2 hours of movie for 2 minutes of fun. What a terribly boring movie.
SLEEPER CELL S01: ✓
After 9 eps of bulid up they didn't stick the landing. I'm done.
The worst thing about SLEEPER CELL is that these people are not talking to each other. They are just reciting dialog. Nothing feels lived.
@thetruemilhouse ist die böse Szene in Sleeper Cell, die du letztens angesprochen hast in S01 oder S02?
@largewhiteguy @Revolvermann komischerweise scheint die extfat Partition im Arsch zu sein. Das habe ich am wenigsten erwartet.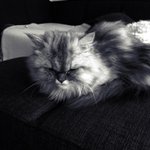 Just chillin' pic.twitter.com/eyFaKvgqOL
@largewhiteguy scheinbar was mit der externen HDD. Ohne alles bootet der Pi. Mit eingestöpselter HDD hängt er.
Schade. Mein Raspberry Pi bootet nicht mehr.
SLEEPER CELL: A boring, contrived and too stretched out story full of dumb people.
I'm trying my best to power through S01.
ich beiße mir jetzt einfach mal auf die Zunge und drücke nur den "unfollow" button.