Truxton Spangler is one of the greatest characters on TV. Frightening, demanding, serious, funny,distinctive voice and great habits #Rubicon
@The_Smoking_GNU it was entertaining, but didn't hold up to my (adjusted) expectations.
@The_Smoking_GNU true. It was the strongest when it focused on being a workplace drama. I eat that stuff up and tolerate a few weaknesses.
@The_Smoking_GNU yes. I'll be writing it up tomorrow. Various things. Too crammed, too many rehashes of old jokes.
RUBICON sets the mood perfectly and keeps the vibe going.
@The_Smoking_GNU As I stretched watching the show out for too long, I'll be trapped in a roofie circle.
Started a RUBICON rewatch. *That* is a well cast and set dressed show.
ARRESTED DEVELOPMENT S04 ✓

I am, sadly, pretty disappointed.

i.imgur.com/yP1W15Z.gif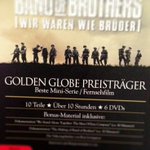 @3jH man dankt. Herzlichst. pic.twitter.com/v1xB3AHeww
MARON is pretty much the same flavor of comedy as LOUIE but not as good. But watchable if you like that sort of thing. I do.
If you like to cry at a sports documentary, "ESPN 30 For 30 - Guru of Go" is for you. Even if you are not particularly into basketball.