Oliver Platt ist sowas von gut. (watching The West Wing, Bad Moon Rising S02E19) gomiso.com/r/JFzb
Ob ich es heute noch bis 'Two Cathedrals' schaffe?
alwayswatching DRIVE in 10 frames. imgur.com/0FnAp
Die Episode macht mich immer wieder fertig. (watching The West Wing, 17 People S02E18) gomiso.com/r/JF8B
If there is anyone who can outact most people just with his eyes, it is Richard Schiff. #westwing
The West Wing is the master of the last 3 seconds before the theme. Nobody does it as good.
17 People now? West Wing, you are killing me.
hach, ist das angenehm ruhig hier.
Die ersten beiden Staffeln West Wing sind mit Abstand die besten ersten zwei Staffeln Fernsehen, die Fernsehen zu bieten hat.
Eine der besten Episoden der ganzen Serie. (watching The West Wing, The Stackhouse Filibuster S02E17) gomiso.com/r/JE5G
"What is it that you know an I don't?" "Toby, the total tonnage of what I know that you don't could stun a team of oxen in its tracks."
Oh. facebook ist wieder da. Kann ich endlich wieder Bejewled zocken.
"What's your name?" "Winnifred Hooper." "Should I call you Winnie?" "Not unless you want me to spit at you."
HOLY FUCK! IT IS "THE STACKHOUSE FILIBUSTER"!!! #westwing
erstmal ne Folge West Wing zum Runterkommen.
Die einzigen applethematischen tweets in meiner TL sind die, die sich darüber aufregen. Könnt ihr wohl damit aufhören? Ihr seid nicht besser
@largewhiteguy nö. Die etwas höhere Stirn hatte ich schon immer. Meine Haare werden nur grau und fallen nicht aus.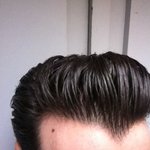 @derTorstn yeah! Ist aber noch zu wenig drin. pic.twitter.com/hoEz5KIV