@davefranklin btw. most people who watched the first four, didn't give it good reviews.
So, why is everyone head-over-heels for WESTWORLD? The pilot is just a bit of setup. You can say nothing about the show.
@3jH ja, der Anfang war witzig.
@3jH ja gut. Sooo früh bin ich dann auch nicht.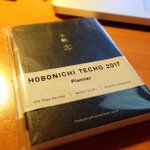 Der frühe Vogel und so. pic.twitter.com/4qyzswKWuX
@LenaLeuchtturm @Zeilenkino das finde ich auch (falls es mehr Unterstützung braucht) ich mochte aber auch die erste sehr.
Pinboard Ask Yahoo's security team how much we can trust Google's security team to keep the government from misusing their surveillance appliances
Pinboard In today's tech news: company A revealed to be spying by secret gov't order, company B launches suite of always-on microphones for the home