sepinwall FX ordered second seasons for both of its excellent new comedies "Atlanta" and "Better Things"
@davefranklin Apple Pay? Haha.

Sent from a third world country.
@h4rd3z ich bin so froh, mir diesen Stress dieses Mal nicht antun zu müssen. Dit läuft nicht mehr auf meiner Kiste.
@Moepern ich hab ja nix gemacht, nur meinen Bruder eingeladen. Trotzdem danke :)
@YohnFerrari even if it is for work, please just skip it. Say your owl ate the screener.
@h4rd3z IND at DEN. Wenn du defensiven Football magst. Hab aber auch erst 4 gesehen. Jets lohnen auch immer. #NFL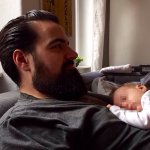 So much niece cuddling. pic.twitter.com/3XTAgJulp4
Two days off after 50 straight days of work were much needed and full of spring cleaning and niece cuddling.
@The_Smoking_GNU I don't care about rap music but it is a fresh look into "the black community". And it is just 20min/ep
@The_Smoking_GNU I'm having Fleabag and Better Things on my to-watch-list, yet I'm not very excited about TV atm. Glad I have my Football.