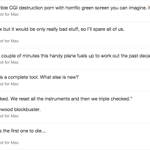 @daskeyzerlein @GumbiC88 nooope. pic.twitter.com/g9HK0n5TPI
Kann man mal so als Gast zu nem Elternabend in einem Akademikerbezirk gehen?
Ich stelle mir das ganz unterhaltsam vor.
@alsterellie which I'm not usually a fan of but with that amount of characters, that helps a lot.
@alsterellie He is a bit all over the place with pronouncing the names but he does very good voice acting IMO.
@jowrotethis Awesome! I hope I will have finished the book by then.
@jowrotethis is there an ETA for the bonus season of THE CAST OF KINGS? I'm asking because you mentioned the recording of two eps.
I really can't believe how much fun I'm havin' with A SONG OF ICE AND FIRE.
The narrator is very good.