The first five episodes of NARCOS are pretty fun because that part of Escobar was just outrageous. The rest is really bad.
Wow. They didn't even tell the whole story of Escobar? That is just terrible. I'm just not going to sit through another season of this.
@thetruemilhouse das finde ich ja nicht. Das ist schon sehr imbissmäßig. Lecker, klar, aber nicht besonders gemütlich.
@thetruemilhouse wo man nicht gleich verjagt wird, weil eher Imbiss, sondern wo man auch in Ruhe etwas länger sitzen kann.
Hat jemand mal nen guten Tipp zum Essen gehen, wo man auch schön sitzen kann? Tapas? Oder ein Portugiese? Oder was ganz anderes?
@insanelygreat keine Ahnung. Tut mir leid. Ich habe mir meinen Server selber gebaut.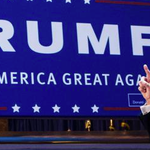 espiekermann OMG! Trump campaign uses my FF Meta on their poster! Only for the subline, but still embarrassing ..pic.twitter.com/vZfqkMVJcrcr
So unimaginative, so 90s, so sad. #Narcos