How can a TV show be so incredibly overstuffed? #Broadchurch
MarkHarrisNYC I love covering the Oscars. They shed light on many things. This is your annual reminder that the quality of movies is not one of them.
@LenaLeuchtturm dann hast du dir ja genau den richtigen Tag für deine Rückkehr ausgesucht ;)
@davefranklin that is at least more likely than BOYHOOD winning.
@daskeyzerlein Ich habe diese Vorbelastung nicht. Sehr trope-ig, hübsch, nicht besonders spannend. Mich nervt, dass jeder verdächtig ist.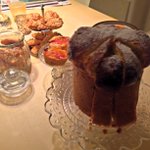 A day worth of baking. pic.twitter.com/TbSjgeNUjG