@davefranklin I knew your Songs of Praise close ups would come in handy someday.
@davefranklin it is not that you don't have any space left, is it ;)
@davefranklin I like that. It's just email and inbox lets you go through it quickly. Archive, trash — who cares? I don't have to see it.
holgi Säßen im AGH keine Piraten, würden wir solche Dinge vermutlich nie erfahren.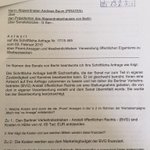 rka #weilwirdichlieben gaben wir für #promiansagen 60.000 € aus #u2 tagesspiegel.de/berlin/bvg-pro… pic.twitter.com/T4zWSaFRaj
Wenn einem vorgesetzte Bürokollegen jeden Tag — den ganzen Tag — Selbstgespräche führen…
macdrifter Pretty tired of cosplaying The Day After Tomorrow movie.
@3jH und? Wie wärs? Abgesehen von seltsam. Kommt schnell zurück, oder?
@Revolvermann na dann. Kann man sich ja einteilen, falls es zu viel wird.
@Revolvermann total! für mich ist eine Folge pro Woche hier die perfekte Geschwindigkeit. Binging fänd ich eher doof.