If you like the comical elements of BREAKING BAD you might also like BETTER CALL SAUL. I did.
@ErasablePodcast That would be great. As much as I enjoy your podcast, we europeans are not able to get most things for a reasonable price.
@The_Smoking_GNU yes. 8, 12, 13, 18, 22.
If you are not totally sick of revenge movies that is. In that case, skip those.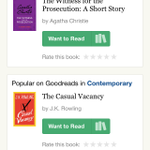 @The_Smoking_GNU trending, new releases, popular..pic.twitter.com/JD4qWVF5cXcX
Can I turn off these ads in Goodreads? They take up way more space than friend updates. It's fucking annoying.
@derTorstn keine Ahnung. Aber die stabilsten sind aus Fallschirmseilen.
@ErasablePodcast I know you like the Staedtlers but I'm sure they are not easy to come by for you so you don't talk about them very often.
@ErasablePodcast I was interested how they stack up against your favorite american pencils.
@ErasablePodcast Since I'm from Germany and Staedtler pencils are cheap and easy to come by (but not many other brands)…
"The Universe in a nutshell" mit "Das Universum in der Nussschale" zu übersetzen ist dann auch eher — sagen wir — einfach.
Is anyone still watching GLEE? I cannot imagine that this concept can be prolonged over six seasons now.
But what do I know.