@Revolvermann Jedenfalls viel Spaß damit. Ist mittlerweile meine liebste Art Kaffee zu trinken. Einfach schwarz, ohne alles.
@Revolvermann ach ja. war ja für die Arbeit. Da bekommst du ein halbes Pfund schnell leer :)
@Revolvermann machen die bestimmt. Kauf bei gemahlenem nur so viel, wie du in einer Woche verbrauchst.
@Revolvermann falls du keine Mühle hast, medium-coarse bis coarse mahlen lassen. Dann kann man etwas länger ziehen lassen.
@Revolvermann ich empfehle Kaffeebohnen (NICHT Espresso) mit sehr leichter Röstung. Und es gibt ne App mit etlichen Zubereitungsmethoden.
@foldingtext I see. I was just wondering because there was so much happening with the dev version and nothing with the MAS version. Thanks.
@foldingtext Am I missing something or are you just updating the dev versions? What about the MAS version?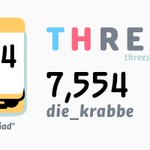 I just scored 7,554 in @ThreesGame! Not sure if good or bad. threesgame.com pic.twitter.com/6tImiN14ka
Die beste Medizin gegen die WEST WING Rewatch-Krankheit ist Staffel 5. Danach hat man eigentlich keinen Bock mehr auf die Serie.