@freedika nur so. weil ich immer nur die Fragen lese, aber nie, dass du etwas davon geschaut hast.
@freedika also was Serien betrifft. Oder fragst du für wen anders?
@freedika schaust du überhaupt irgendwas von den Sachen, bei denen du nachfragst?
The worst thing about THE WEST WING is the credit theme at the end of each episode. Too upbeat for most episode endings.
The brilliance of THE WEST WING clearly lies within where they point their cameras and where they don't.
The rest was good, mostly great.

What an outstanding body of work. Truly outstanding.
Watching through the first 4 seasons of THE WEST WING recently, I need to point out that there were only 3 mediocre eps.
@thetruemilhouse das gerade sind die 10 Filme, bei denen wir am wenigsten einer Meinung waren.
@thetruemilhouse bringe mir gerade etwas R bei und das mache ich, indem ich unser FilmDoc statistisch auswerte und visualisiere.
THE FUCKING DOTS ARE AT THE WRONG Y-POSITION!!!

grrrrr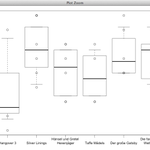 here is where I'm at by the way. #plots pic.twitter.com/ltdygEFDg6
Making nice plots is fucking hard.